The Sunset Shimmer Collection
Fighting to the Top

Canterlot High School has been chosen as the next host for the Inter-regional Fencing Tournament. Even after tying with Crystal Prep at the Friendship Games, CHS is still the underdog of the sport. Well, not any more, if Sunset has her way.

by SwordTune 23,279 words · 50 · 2

A Summer's Gift

With university life just a few months away, Sunset and her new friend, Marionette, explore each other a little bit and find some fascinating things.

by SwordTune 4,255 words · 14 · 1

New Year's Future

Sunset's back in her home town for the winter break. After a long first semester at her university, she's glad to finally be back with her friends. One friend in particular, Marionette, will help her prepare for the future to come.

by SwordTune 8,748 words · 12 · 0
The collection of my stories which follow the path of Sunset Shimmer as a fencer! From her first competition at CHS to making new friends she never thought she'd have, look upon where Sunset could go as she leaves behind the world of magic and finds herself a new life. (More to come)
That One Time I Made A Shipping Video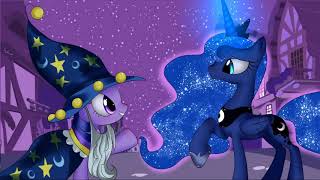 I looked to see whether Eldena Doubleca5t had made a video on My Little Pony ships. Seeing as that has not happened, and I can find no fan-made videos, I have taken it upon myself to throw this video together to stave off the desire to see MLP ships, at least until a real video comes around. All images were taken from Google.

Check out Eldena Doubleca5t, the original source of the audio:
https://www.youtube.com/channel/UCqhVP3hxi6o8vDoFkUzMKew
I Review Stories
Previously I made review requests at random times. It was easy on me but a little chaotic. So now, I just make the requests on my page. If you want a review, leave a comment on my page or a direct message with the link. I'm willing to take a look if I have time. However, I do have a number of requirements:
1. No stories with red tags. Mature themes are okay but I'm hypercritical of the excessive use of gore/death/violence. If you believe you don't use those tags for shock value, I'm willing to take a look. Sex/clop is hard no, however.
2. I have time, but not infinite time. Writing a 20k word story takes me a few days so I will also put my reading at that cap (if it's a little over like 21k that's also fine). For longer stories, I will base my review on the first 20k words.
3. Must be complete, or a major part/arc of the story is complete. (If you plan to have a longer story, but the first parts add up to the word cap, I will still look at them).
4. This one's not a limit, but just a warning. I'm not your spell check or editor, I expect a polished work if you're asking for a review. If there are severe grammatical or spelling errors I will rate it harshly.
Below are links to reviews I have recently done. I try to be as fair as possible, so expect this level of criticism:
https://www.fimfiction.net/group/924/i-just-want-a-comment/thread/443322/review-of-sunset-glimmer-by-ninjadeadbeard
https://www.fimfiction.net/group/924/i-just-want-a-comment/thread/442841/review-how-to-host-a-party-by-uz-niamat
https://www.fimfiction.net/group/924/i-just-want-a-comment/thread/437095/review-of-silent-wings-by-indigo
https://www.fimfiction.net/group/924/i-just-want-a-comment/thread/437032/review-of-bracebracebrace-by-the-red-parade
https://www.fimfiction.net/group/924/i-just-want-a-comment/thread/437030/review-of-anarchy-pony-of-chaos-by-ninjadeadbeard
https://www.fimfiction.net/group/924/i-just-want-a-comment/thread/437028/review-for-easter-sunday-by-artist