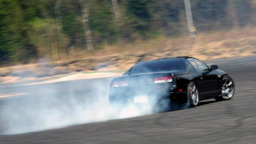 Source
Going to college in a different world to your own is hard. Going to a college in a different world to your own, being involved in the street racing scene in said world and trying to keep it a secret to nearly everyone you know is a little more complicated.
---
Vinyl Scratch, also known as DJ-P0N3, a student of Canterlot Royal University of Music, and Oban McKay, a student studying mechanical engineering at Canterlot University, are roommates in the Skyline Crest apartment block in the South East area of Canterlot.
Vinyl considers Oban to be a good friend, but she starts to be slightly suspicious of him, as she can't help but think he is hiding things about him from her. For example, he is sometimes evasive of his intentions when leaving the house, he sometimes leaves late at night and will come back at nearly midnight - or sometimes not until the next day, and he doesn't seem to have any particular talent outside his field of work.
Oban excels in his studies of mechanical engineering, and his secret pastime is one of the reasons for this. Unbeknownst to Vinyl and most of his friends at uni, he is involved in Equestria's street racing scene, and is making a name for himself in the process.
Driving a modified Nissan Z32 300ZX, he involves himself in the street races in the mountain roads of Canterlot, quickly gaining the nickname amongst his fellow racers as "The Midnight Arrow", due to his car's distinctive jet-black colour and his laser-like precision techniques.
Keeping this together, and as a secret, however, gradually becomes more difficult for Oban, as Vinyl and some of Oban's friends at university become more and more suspicious of his behaviour and elusiveness towards his night activities.
Can he keep it a secret?
Will the truth come out?
And why street racing, out of all hobbies?
---
This story takes place in an anthro universe of MLP where Equestria and Earth make contact with each other and become allies, similar to My Overbearing Aunt and Fleeting Romance by Sketchy Changeling. The story itself takes place fifteen years after this happens.
Chapters (1)