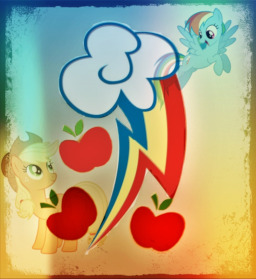 A few weeks after Twilight's coronation, Rara visits Applejack to get help with her upcoming concert. The visit becomes a point of contention for Rainbow Dash, who experiences a new range of emotions during that time. Will Rainbow Dash come to terms with the fact that she feels, and may have always felt, a different kind of love for Applejack?
The truth to that question will set Rainbow Dash free. But first, she must admit it to herself.
---
Be ready for a lot of fluff with a dash of angst. This is a light-hearted Appledash fanfic, and I hope it becomes one of your go-to comfort reads.
Chapters (6)