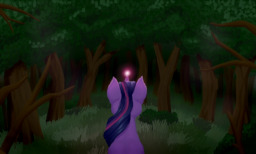 Source
Twilight Sparkle (You) desperately flees from the latest in a seemingly endless line of predators: The Humans. For years they've stalked the unicorn through the refuge of the whitetail woods, each time waiting for the moment her guard drops to strike. Exceptional teleportation keeps her just a hair ahead of her assailants again and again, but just what happens when that luck runs out?
---
Prequel to "Staying out of trouble", "The chase" explains just how Twilight ends up in her future situation as well as explores under just what circumstances friendships can form.
"The Chase" Is complete so updates should be fairly regular as I find the time to edit.
Chapters (5)