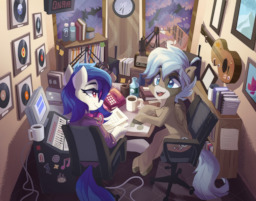 Source
As another unicorn in a blessed lineage of scribes and minor mages, Golden Swirl has established himself as a loved practitioner of the recent field of communication magic. Life is simple: go to work, jot down what ponies want him to send to loved ones or business partners, and send the letters off into the ether, where they'll appear a few hours later.
But now at the dawn of the second millennium, life in the city of Mareposa is rapidly changing, like much of urban Equestria. Where artisans provided excellent work and earth ponies harvested the crops with innate magic, factories have been erected and large industrial farms have taken root. But none of that matters, so long as his life is secure. There is no way that ponies could speak over long distances without magic, right?
---
Set in the world of the Heart's of Iron IV mod, Equestria at war.
Written as an entry in Equestria at War's Fifth Annual Writing Competition.
As always, a massive thanks to EverfreePony for all their editing work.
Cover art by saxopi.
Chapters (1)