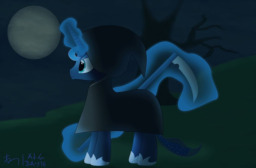 Source
Based off: https://www.youtube.com/user/Magpiepony 's Pinkie Tales series. Please watch them, they're great.
Pinkie Pie decides to tell the Cake Twins a fairy tale that's a favorite of the Princess of the Night, but the story may be far from what she considers fitting.
My Little Pony belongs to Hasbro!
Godfather Death is in the Public Domain!
Pinkie Tales belongs to Magpiepony.
Cover art thanks to cosmikvek on deviantart!
Chapters (1)