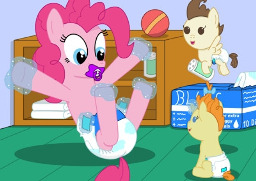 Source
(Originally published on Fanfiction.net, original fic inspired and requested by Supernova2015 on Fanfiction.net. The fic has been spruced up a little for here. Warning!: This fic will contains diapers and very mild AB/DL themes, and has been rated Teen as a precaution. If such material is outside your comfort zone DO NOT READ! Takes place prior to any events in Season 8.)
Pound and Pumpkin Cake truly love it when Pinkie foalsits them, after all she's like that wacky big sister they always wanted. But they are still toddlers and naturally as toddlers they are prone to mischief.
So one day when Pinkie is watching over them while their parents are away, the twins get the idea to make Pinkie one of them and that includes a diaper and a pacifier just right for their big sis.
But how will Pinkie react to such treatment? Have the twins gone too far this time?
Chapters (1)