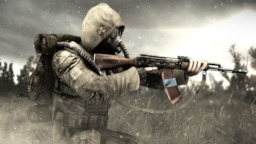 The Zone has always been subject to strange phenomenon and has been host to many new discoveries and dangers. The appearance of a number of aliens normally would be a large concern for many people in the world, yet in the Zone it almost seems tame compared to the other discoveries and events that occur inside of it.
Now the fact that these aliens can talk and seem to have rather unique abilities and skills is a completely different stories and draws a lot of attention from all factions. The following events after the appearance may end up changing the zone forever...if they are not claimed by it first.
From the Military Cordon to the Chernobyl NPP itself the two sisters will have to roam, making friends and enemies along the way, all the while being hunted by a strange group who seem to have their own agenda that needs to be settled with the two sisters, and of course the Zone itself hampering their progress and trying to wipe them and all other life off of it.
Chapters (2)