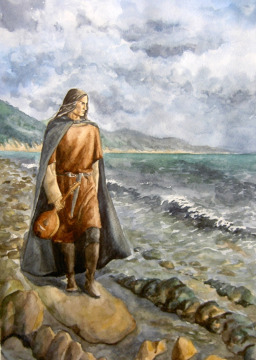 Source
PSA: This story has been completed prior to posting, chapters will be posted twice weekly, Sunday and Wednesday.
The Prince of the Lake has dwelt in the northern land of Tailte Sioc since time immemorial, a figure of legend reaching out of the mists of the past to greet the present, but all things have a beginning. Stranded and alone in ancient days when even the Sisters were young, the last son of Fëanor must navigate the climate, wildlife and local feuds to build a future for himself, and perhaps others as well.
---
An Equestria at War story written for Fëanorian Week 2023, it is canon to the Quenta Roccolië.
See author's notes at the end of each chapter for terminology.
All Silmarillion content is derived wholly from canon sources written by J.R.R or Christopher Tolkien, or informed extrapolation thereof. Adaptations are ignored.
Thanks to Aydan Zamora for betaing.
Cover art is 'Maglor by the Sea' by Marya Filatova
Chapters (1)