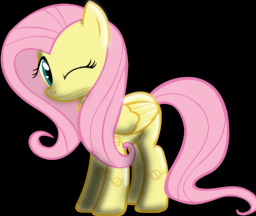 Source
Stricken with grief, Rainbow Dash becomes a recluse in the days following the funeral of her best friend and dear wife Fluttershy. Her very life seems to fall apart at the seams without Fluttershy. As she wallows alone in her home, Rainbow is confused to find a large package left in her living room. What disturbs her the most, however, is what's inside it.
Somepony has mailed Rainbow Dash a manufactured copy of Fluttershy. It talks and behaves like her, too. What's more, everypony else thinks it's really her. They even act like Fluttershy was never buried in the first place.
Cover art by Grey Gold on DeviantArt. Will remove if the artist requests so.
Chapters (1)