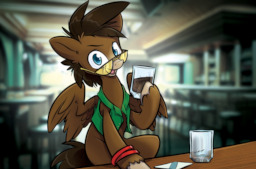 Source
Hey there everypony,
I've been a barpony for most my life and it's allowed me to see this fantastic world of ours; and as a barpony we hear a lot of stories from all over Equestria. This job can often be more about listening than actually serving drinks, and boy am I good at both, while I'm not much of a storyteller myself I feel some of these need to be shared. So bear with me here as I try to recount some of the stories told to me over the years because, honestly, who can remember them all perfectly?
Where are my manners? My name's Bumper and I own a few bars and clubs across Equestria and have worked countless more beforehand. So without delay let's get stuck into a little series I'd like to call The Barpony Tales.
Chapters (1)