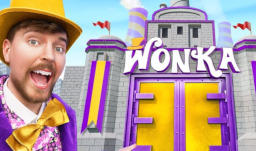 Source
One day, Sunset Shimmer was just doing her usual routine at home, when suddenly: an unexpected, as in unscheduled, cupcake delivery arrived at her front door. Inside the box is an invitation to the 2023 Pinkie Pie Birthday Games at her homemade Chocolate Factory in an abandoned warehouse! The invitation in the form of a golden ticket.
16 enter the competition, only 1 can win!
Inspired by MrBeast's Chocolate Factory video.
Chapters (5)