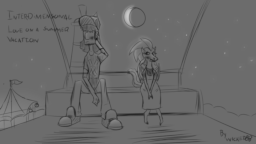 Everything changed around 2008, we elected a new president, smartphones were becoming the next big thing, and it was the nearing end of the 00's, things were truly changing. One big change that people were not at all expecting, though, was strange portals that not only appeared around the globe but were also connected to a strange, magical alien world.
Long story short, these portals were connected to a world known as Equestria, where many mythical, magical creatures ruled over, and luckily for us humans, they were mostly peaceful. So much so that, not only were we able to just establish trade between our worlds, and added a few Equestrian seats to the UN, but also allowing earthlings to visit and vacation in Equestria, and vise-verse for the inhabitants of the other world.
This is the story of how you as well as other groups of people, became the first civilians to visit this alien universe, but a story of how you found your out-of-this-world soulmate.
Chapters (1)