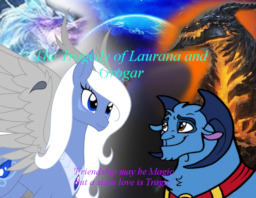 The Melody of Love, Hate, and Tragedy
When one thinks of Love, and Hate, all anyone can ever think of is of the two being polar opposites. Two opposites at constant war with one another. In the same way as Light, and Darkness, Good, and Evil wage an eternal struggle for dominance in all of existence. And with no room in between to tell the difference between either.
But Love, and Hate are far more intertwined than any can imagine.
For it was the love of two omnipotent entities known as The Baphomet, or Elder Gods, who ironically embodied Light, and Darkness that gave life to the world of Equestria. A love that they had shaped, and formed after fate brought them to a mysterious world where they learned more about their reality than they ever could have imagined. And together, while given sanctuary of this celestial domain that reigns over space, and time, the two seek to strengthen, and grow themselves to better be prepared to face any threat to the Balance of Creation they are sworn to protect.
And through time, effort, and even tribulation they become true Bahamut of Creation, Life and Light, and Destruction, Death and Darkness to maintain the balance of existence. For neither Bahamuts, nor the Aspects they embody can exist without the other. And now, they have the strength to work together, and protect each other as they also protect the universe. Bound by the strongest of loves the two had forged in their time of training, it was believed that nothing could ever break apart the bonds of Harmony that were shared by living embodiments of the central aspects of creation.
But even Love inevitably falls.
And circumstances cause it to decay, and rot until only hate remains.
This is how it all happened. How these universal lovers story not only came to pass: but also shaped the world of Equestria into what it is now. A world born out of love, until the mistakes of mortals incurred the hatred that ended three generations of Equestrian life. And how the Fourth Generation lead to tragedy when the lovers became mortal enemies who war for the fate of this new stage of life.
The Tragedy of how Love dies, Hate begets more hatred in the form of curses and calamity, and ends in the eternal entrapment of Light, and Darkness.
Attend the tale that is The Tragedy of Laurana, and Grogar
Chapters (2)