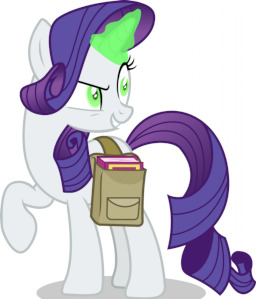 Source
At first, Rarity was unable to remember what had happened when the book's magic had overtaken her. But within a day or two, memories began to bubble to the surface. She remembered all of the things she had created, which had either been destroyed by the princesses or simply vanished after the magic left her body. So many wonderful things. Things that were beautiful, pure, unique.
But none of them were as great as the feeling that the magic gave her. The energy and power that had flowed through her veins. Just thinking about it made Rarity feel like she was weak compared to the book's magic. Or perhaps she was. Growing weaker and weaker, not to mention the shivers and depression, from the loss of the wonderful drug that was the book. She'd do anything to regain that feeling. But why stop with the book? WHy not obtain a larger dose . . .
Comments are always appreciated, and I'll respond back to each one as quickly as I can. Enjoy!
Chapters (2)