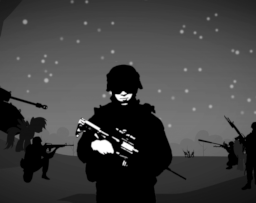 War can change a man. They can turn them into bloodlust soldiers and use orders as an excuse. Some are just willing to be serving the country and be a role model, others abuse their power.
Billy Gauge, he fights wars. He lives through it and would yell for more. However an operation, illegal and dangerous, pushed him into his breaking point. He wasn't intent on going back to serve, and wanted time on his own. Until a test-run of an experimental prototype sends an entire army to Equestria. The land where peace and harmony exists.
But their conflicts conflicted with Billy's, and in order to get back home he shall finish his mission. To find out who massacred Ponyville and end their journey, and it will not involve peace.
---
heavily inspired by Marvel's The Punisher. As much as the description doesn't involve ponies that much, I will still fit them in as their own roles in this story.
hehehehe cringe story
Chapters (2)