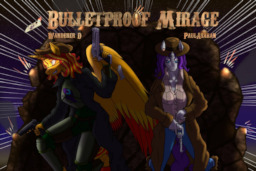 Sunset Shimmer meant to visit another video game. Wild West games are always fun, right? But then things go wrong and Sunset's alter ego, Desert Mirage, becomes trapped in an entirely different world. This isn't a video game. The choices she makes matter. With a real chance of hurting somepony, Mirage decides to head home as quickly as possible. That'd be a lot easier if her way back hadn't been stolen. But Mirage has far more to worry about than mere card thieves.
The Bulletproof Heart is on the hunt.
---
A collaborative project with Wanderer D and a crossover of Bulletproof Heart, Gunsmoke, and Sunset's Isekai. This one's just for fun, folks!
Bangin' cover art commissioned from KorenCZ11.
Chapters (1)