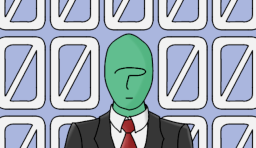 A large corporation in Manehattan hires you to fulfill the Diversity and Inclusion goals and reach the target numbers on the key metrics such as the absence of gender and racial bias. They specialize in customized spell solutions, distributed enchantment systems and cloud mana storage: three things that you, a human, didn't know even exist.
To their surprise, you are not entirely useless.
This is an RGRE (Reversed Gender Roles Equestria) story. You were warned.
Huge thanks to Vayne Hellslinger and SirReal for helping me to make this stuff more readable.
Chapters (4)