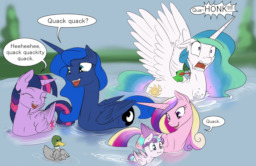 A pony is stuck in a fence, and it's my job to get her out.
----------
Cover art by silfoe. I've always loved this particular picture.
Inspired by the cover art and this video.
Originally wanted this to be in 2nd person, but I know that can turn people off to the whole thing. I get it, I used to be like that too.
Featured on March 2nd, 2020! Thanks so much guys!
Chapters (1)