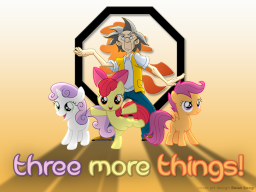 Source
Uncle lives a very fulfilling life at his antique shop. It's peaceful and quiet for the most part, just how he likes it. Of course, he's a skilled chi wizard, so he knows better than to actually let the universe know that he's content. So he complains.
A lot.
Then one day, a basket containing three infant magical ponies arrives, and his peaceful life goes out the window...to be replaced with, perhaps, something a little more than contentment.
The universe, apparently, is smarter than he gave it credit for, because now he has "Three More Things!" to complain about to hide just how much they mean to him.
------
Part of the PWNY-verse.
First chapters take place approximately 10 years before the events of the first episode of the show.
Edit: Cover Art put together by Shadow Bolt
Edit 2: New Cover Art by Swan Song. Link to his page in image source.
Edit 3: Level Dasher commissioned an image of the CMC with their new Cutie Marks from Katakiuchi4U over on Deviantart. Here's the pic!
Chapters (218)