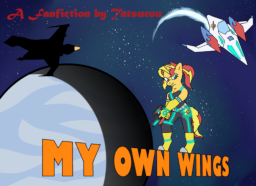 Source
His father missing, presumed dead...betrayed by a friend.
Lost and alone, Fox McCloud turns to the universe for some sign there's something worth fighting for.
The universe answers in the form of a firebrand from another dimension.
Now his life is turned upside down for the second of many times. Especially when the little filly starts calling him 'Dad'.
---
Part of the PWNY-verse.
Edit: Awesome new cover art by ProfessorCatPro! Along with ideas for tech pictured in the cover, which will appear in the story.
Chapters (80)