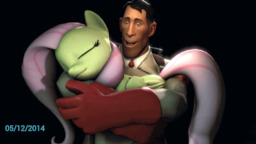 Red Team had been given an assignment. It wasn't the usual sort of assignment. They were assigned to defend their base 'until further notice'...and then never received notice. All announcements sounded pre-recorded, and enemy assaults were few and far between. The enforced inactivity was slowly fraying the bonds of the team...
...until something unexpected arrived. A tiny creature appears one day in their fortress, in need of compassion and care. Somehow, she finds that in this group of strange individuals, as she becomes their baby.
-------------------
Crossover with Team Fortress 2.
Part of the PWNY-verse.
Edit: Since I get these comments a lot, I will say here, I've never played the game and don't intend to include much in the way of game mechanics, so please don't suggest such things.
Edit 2: FAN ART! for chapter 9 by G_Haze. Makes me so happy.
Edit 3: More fan art from G_Haze, This guy's amazing!
Edit 4: New fan art! by The Pyromanecer. Thanks so much!
Edit 5: More fan art by shiningkord98.
Edit 6: New Fan Art by The Pyromancer
Edit 6: More awesome fan art from G_Haze! So awesome!


Edit 7: New fan art by Pioneering Author
Chapters (34)