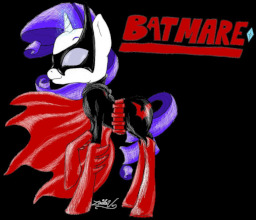 Batman has defeated many foes in his life. The Joker, Two Face, The Riddler, Poison Ivy...just to name a few. However, no matter how hard he tries, there was one foe he could never defeat...Time.
Finally beaten, he admits defeat, ready to give up...
But a tiny white unicorn might have something to say about that. A single word that gives him hope. A legacy. A way for Batman to conquer time itself, even if Bruce Wayne cannot.
That word...is "Father".
----
Part of the PWNY-verse.
Chapters (25)