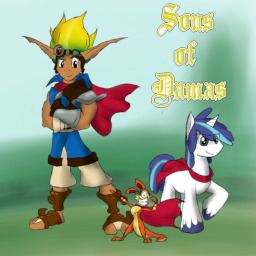 Source
Jak never found it unusual that he had a unicorn brother. Shining Armor had been there his entire life, as far as he could remember. Sure, Daxter often made a point of just how strange it was relative to everyone else in the village, but then again Jak himself was different from the rest of the villagers.
He never questioned that he looked somewhat different from everyone else. Never questioned that he was raised by Samos the Sage, alongside Samos' daughter Keira, whom he kinda-sorta liked and who kinda-sorta liked him, even if Samos himself didn't like that. Jak, by nature, wasn't the sort to question things.
Shining Armor, on the other hand - or hoof - had lots of questions, but no answers.
...yet.
---
Part of the PWNY-verse.
Crossover idea suggested by Keyblade Hero.
Cover art by Sanyo21
Chapters (135)