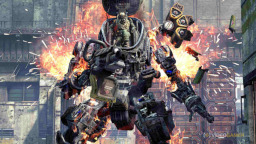 Story is Cancelled, but a better one is up in the Sequel Box to the right!
The Militia recently suffered one of their greatest losses at the hands of the IMC, and nearly lost an entire battlegroup. However, one Destroyer damaged it's warp drive, and was sent deep into uncharted territory. Along with it, one of their best Pilots, Joshua, went along for the ride. Haunted by his mistakes in the IMC Pilot seats, he vowed to do right by his new position, and that includes helping whoever needs him, whether they be former IMC, hardcore Militia, or even talking magical ponies, as they begin to battle across Equestria, fighting to help maintain one form of peace where theirs had previously failed. Assisted by the Destroyer, known as Horizon, Joshua will lead the Equestrians through war against all of their known enemies, and help to find his own salvation among the alien populace.
I do not know if there is anything at all written anywhere about the technologies of the ships or anything about the characters (if there are any) in Titanfall, so it's mostly assumptions from other EA titles, and what I believe may have happened in the background of the Campaign.
Original characters used, so warning about that, and maybe a little bit jumpy here and there, but this is the first time I've taken on Titanfall, and what I find best to use, so there.
Hope you enjoy and thanks for reading!
Currently Undergoing Rewrite
Titanfall is owned by EA and Respawn Entertainment.
I own and regret nothing.
Chapters (18)