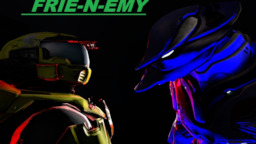 Spartan 027 has dodged Death's grip multiple times, but after his narrow escape from Reach, he is sent on another mission. The Spartan leads a team of misfit solders that overloads a covenant Super Carrier's slip space drive to stop it from reaching Earth. While aboard he encounters a Heretic Sangheili and a minor elite, who agree to help the humans if they help the Heretic's group of rouge covenant. The Spartan and Elite overload the slip space drive, hurling them into the pony-fied universe known as Equstria, where their troubles have just begun.
Will continue to write.
Halo crossover.
Art work was made by me for me.
All rights reserved to me.
Aside from the pony franchise and halo. The rest is my own work of fiction.
This story is continued by Guy Balkur. original writer has been sentenced to life in the asyluim for the mentally hatty-capped due to too much Team Fortress two.
Chapters (19)