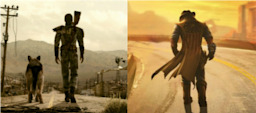 *Some important information at bottom! Leave some feedback too!*
The Lone Wanderer and The Courier: the names of two legendary figures whose actions forever changed the fate of the wastelands. The Wanderer stood as a shield that defended virtue from vice. And for the Courier...well, he's just a man living in the wild, wild wasteland, looking for a day's caps. Regardless, word of their legendary exploits spread throughout the wastes, but never intersected.
Now, a series of unprecedented events will unite the roads of these two legends. Being projected into the unknown, they decide to work together to adapt to the strange, new world. Could they get used to this new place? Would it be a hero's rest? But they struggle to deal with one person: each other.
More importantly, how do they deal with the colorful ponies that already inhabit the fantasy world called Equestria?
How will the Courier cope with a world without toasters or video games?
*Disclaimer: I do not claim ownership over the Fallout series. All rights go to Bethesda Softworks.*
This is also my first human-equestria story. I'm not sure if I should continue or not; this is more of a one-shot kinda thing, but I might keep adding more chapters. Let me know what'cha think! Bigger chance that I would continue! Hope you enjoy!
*If you are also interested in pre-reading or being an editor, send me a private message, I'll answer as soon as I can.*
Chapters (4)