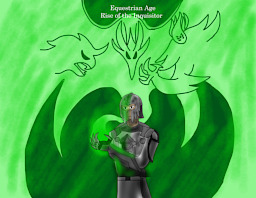 This story is undergoing major changes, and just might be integrated with another story of mine. Thus, this one might not be started again until the other is complete. It is by no means going to be cancelled. I made a promise to a colleague, and I intend to keep it. This WILL be completed, just at a later date.
---
Murphy Dryadson had just left the E3 convention. Or rather, tried to. He kinda got outsmarted by an interdimensional deity. The result? He got sent to a land previously thought to be make-believe, as the character he was dressed as. Complete with a mark on his hand containing a power that grows each passing day. Now he's in the middle of a war and has to figure out how to get home.
Typical Mondays, as always.
---
This story is not originally mine. Indeed, the author of the story had lost interest in it, but didn't want to see it sitting and rotting like a piece of roadkill on a highway. So, he entrusted it to me. The author is no less than the exceptional writer and word weaver, BlueSun52. Go give him a look (and a follow, if you please), his work is amazing.
Now, to clear some things up.
First, this will not be exactly the same, sadly, as the admins make clear rules against such things, plagiarism and all that. No, I'm afraid it will be quite different. The main character will be the same, of that you can be of sure of, so don't worry about that.
Secondly, if you've any suggestions or comments or, especially, concerns, please notify me. I would greatly appreciate it, and, admittedly, at times I may need it to keep going at a steady pace.
Finally, story tags will be added as the elements of said tags appear, just to add to the mystery.
And that's about it. Now, please enjoy the story.
Chapters (1)