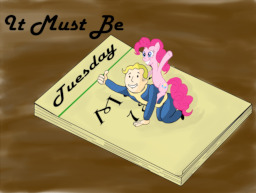 Source
The Lone Wanderer has been known as the man who shouldered the nightmares of every man, woman and child in the wasteland, so that they may live. But when the Wanderer was once again abducted by aliens, he found himself falling, quite literally, into a whole new wonderous world, untouched by the horrors of nuclear devastation.
He has been facing other people's nightmares constantly for almost a decade, it was high time he was allowed to wake up.
Meanwhile, the ponies of Equestria are baffled by a strange object that fell from the sky.
Fallout/FIM crossover. HiE. T for violence and some language.
Chapters (11)