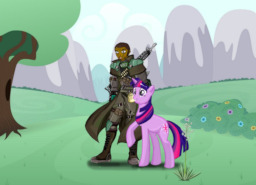 Source
After a mishap involving the Transportalponder, the Courier finds himself in a place he doesn't recognize. With no way back and nothing else to do, he decides that wandering into the nearest town is the best option. Being the Courier, things aren't that simple...
A Fallout: New Vegas/My Little Pony: Friendship is Magic crossover
The style alternates between omnipresent third-person and the Courier recounting his tale to... Well, take a guess.
Chapters (30)