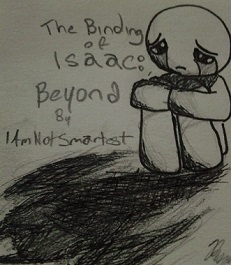 Celestia had a vision, of two beings, one of darkness, one of light. They claimed that they would reclaim Equestria and return it to dust. The next day, a small creature appears, frightened, scared, and afraid of her very touch. A child. A child who may herald the end, or save Equestia from its demise.
Isaac has been in the basement as long as he can remember. So many times has he descended through this purgatory of death and murder, god and demons, so many things that hurt, burned and killed.
Then one day it stopped. A secret room that opened the chest he had known so long, and he was free. He could leave the Basement.
He didn't see anything else that followed him out.
He didn't expect the world to have changed so much in his absence.
And he never could've imagined they'd all be ponies.
And ponies never imagined that simple children could ever save them from the forces of evil.
---
Holy Hell! This got featured! (1/8/16)
A-again? Thank you! (1/22/16)
IAmNotSmartest.omfg has stopped responding. Close the program? (2/12/16) >No >Hell no >Back the %#$@ off
IT JUST KEEPS HAPPENING I DON'T UNDERSTAND. (3/22/16)
And again? I though Friday the 13th was supposed to be an unlucky day! (5/13/16)
*Incoherent stuttering* (5/30/16)
Character list will be updated as necessary, those not immediately listed are:
- King Sombra
- Twilight
- Spike
- TBC
Characters from the Binding of Isaac are under Other, as you'd expect.
Correct me if I get an item's effect or description wrong!
Correct me if I get grammar or spelling incorrect, I'll fix them as I'm aware of them!
Cover art is by me.
Huge thank you to TrueGentleman, who has taken it upon him to aid me in the editing of this story! (Stopped as of 18 onward)
Appreciation for HydraLightning, proofreader from CH3+.
And a special thanks to awesomesauce4 for inspiring me to start on this! Here's their story!
|The Unbinding|
Chapters (22)