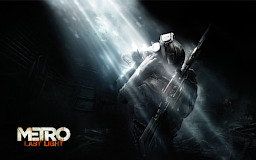 Source
Moulded by the harsh environment of a post-apocalyptic Moscow, Artyom was always the man to do what it took to get the job done; anything to protect the Metro and all of those that would rebuild humanity. He destroyed the Dark Ones to protect mankind and the final stand at D6 was no different. Faced between letting the Communists control the entire Metro and destroying the easiest method of sustaining thousands of people, Artyom took the route of sacrifice by killing himself and destroying D6.
So was the end of his journey ... in Moscow. Lost in a new world, Artyom is faced with surviving in a foreign environment. How can a man born in war and violence survive in a land where such are nearly alien concepts? One thing is certain, he must survive for he won't get another chance.
A Metro/FiM crossover following the ending of Metro: Last Light. If you haven't played the game than you will be in for some spoilers.
*Note* There is Russian used in the words, they will be roughly translated at the end of each chapter. The Russian is used as flare, all important things will be in English. If the Russian is used in an important part, it will be reiterated in English.
Edited by AuthorGenesis, Word Worthy as well as Toothless the Night Fury . Many thanks to them.
Pre-read by VasQwibQwib
Russian help fromSnorting Gentleman, The Boorywooch
Additional Russian help and Pre-read by Andrey_159
Chapters (31)