Quotes I happen to like.
"Bad art was as good as good art. Grammar and spelling were no longer important. To be clean was no better than to be filthy. Good manners were no better than bad. Family life was derided as an outdated bourgeois concept. Criminals deserved as much sympathy as their victims. Many homes and classrooms became disorderly - if there was neither right nor wrong there could be no basis for punishment or reward. Violence and soft pornography became accepted in the media. Thus was sown the wind; and we are now reaping the whirlwind." -Norman Tebbit, 1985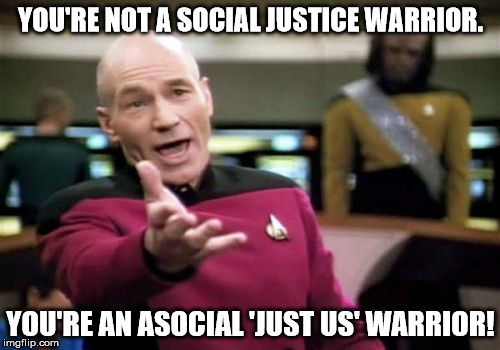 I'm an avid Human Supremacist, and anti-Political Correctness, as well as anti-Social Justice Warrior. Occasionally I may let these views show in my writing, but no one's telling you have to ascribe to them, I'm certainly not going to. I'm a lover of the finer things in life, like classical music and the first amendment. Waltz music specifically. That being said I'm also big on Pink Floyd, Sabaton, and a bunch of other bands I can't recall the names of. I don't know if I'd classify myself as one, but people generally call me a 'Gentle Giant', as I'm a rather big scary looking guy. Feel free to shoot me a message if you want to chat, I don't mind some conversation every now and then, actually I'm a bitter, lonely, annoyed jerk most of the time. I suppose we all have our bad days though, eh?
Anyway, here's some tunes and videos and other stuff to look at if you want. Have a good one.
Oh! Also, if you like my stories, perhaps you'd like to leave a monthly contribution to my Patreon thingy? If Monthly isn't your thing, I have a Paypal as well. Anything you can spare helps me pay the bills and gives me more time to write. I'm also available for commissions, if you're interested pop on over to my Commission Sheet here.
"Out of the night that covers me,
Black as the pit from pole to pole,
I thank whatever gods may be
For my unconquerable soul.
In the fell clutch of circumstance
I have not winced nor cried aloud.
Under the bludgeonings of chance
My head is bloody, but unbowed.
Beyond this place of wrath and tears
Looms but the Horror of the shade,
And yet the menace of the years
Finds, and shall find me, unafraid.
It matters not how strait the gate,
How charged with punishments the scroll,
I am the master of my fate:
I am the captain of my soul."
"A" is for America
"B" is for Bad Commie
"C" is for Commie
"D" is for Dirty Commie
"E" is for Evil Commie
"F" is for Filthy Commie
"G" is for Ghastly Commie
"H" is for Hateful Commie
"I" is for Insidious Commie
"J" is for Just shoot that Commie
"K" is for Killing Commies
"L" is for Lying Commie
"M" is for Moping, which Commies do in prison
"N" is for Never being a Commie, lest you should accept the consequences
"O" is for Oh no! You've found a Commie in your neighborhood
"P" is for Pissing on a Commie's grave
"Q" is for Quietly creeping up on an unsuspecting Commie
"R" is for Removing all Commies from our humble American soil
"S" is for Stopping every Commie, no matter the cost
"T" is for Telling on potential Commies
"U" is for Understanding that Communism is a lie
"V" is for Vacant, like the eyes of a Commie
"W" is for Whoa! Here comes a Commie!
"X" is for Xylophone, which you can give Commies a concussion with
"Y" is for Yellow, which all Commies are
"Z" is for Zero, which is what the average Commie makes