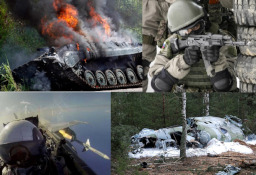 This story is undergoing a massive rewrite. Expect everything to change soon.
A Russian MVD Spetsnaz team is sent smashing into the ground after the Mil Mi-24 they were in was knocked out of the air. A short time later, the crew and passengers wake up to find themselves in the wreck of the helicopter - but nowhere near Moscow.
As they desperately attempt to find out where they are, they will discover that they are not alone: Other humans have also found themselves in similar situations. However, these disorganized forces may soon be fighting for their survival, against an enemy that they could never have planned for...
---
The original version of the story, as published 2013-2015, can be found here for those that want to read it as it was. Editing on the original story was done by The Rainbow Brony, and I am thankful for the time that he put into the story to make it better than it would have been otherwise.
Chapters (0)