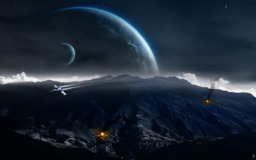 The state of Nocturne, that of the Lunar Ponies, was dissolved over four hundred years before the reign of Discord began, and quickly assimilated into Equestria proper.
Fast forward two thousand, five hundred years, and the unexpected happens: the Solar Princesses have died of old age, an unprecedented event that throws Equestria into chaos. In the span of a generation, old hatreds reignite, and for a species that is just reaching out towards the stars, it may prove to be a fatal conflict.
The new state of Nocturne is no exception. Divided by ancient ruling houses, and low on resources and moral, they can only watch in envy as the emerging Unicorn, Earth Pony, and Pegasi factions leave the nearly barren surface of Equis for the other planets in their system.
What they need is a victory, a leader, and a cause to rally them. Captain Astral Mist hopes to provide them with all of these, if she survives the coming battles.
And as the ponies clash over petty hatreds, how will the remaining ancients, beings as long-lived as the now-deceased Solar Princesses, react to the descent of their former charges?
Chapters (6)