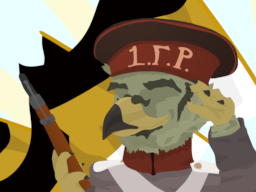 ---
Late Victorian era Europe of 1888 is inserted into the EAW universe in their respective year of 774ALB (Just after Grover I fails his invasion of Sicameon). Also, none of the Europeans remain human. Discord blushes.
---
Grover I, or the soon-to-be, "The Blessed," rests his creaky bones as he receives news of the defeat against Sicameon. Grover II will remember that. He pays little mind to this advancement, after all, he expected as much considering he only sent a meagre force mostly comprised of levies and Acquilean sellswords in his so-called 'military expedition,' though, he regrets the unifying effect he inadvertently initiated on the Parishes.
Across the sea, Celestia, as always carefully schemes and manipulates the fates of her neighbours, namely, Severyana, of which royal family and attached royal court she had been patiently nudging into a hyperbolic pit of Tartarus every generation or so to orchestrate a succession crisis. She figured they would blow up in 22 years. Of course, she could just ditch the mind-numbingly slow subtlety and just kick the Tzar in the flank and turn the boyars into ash, but she doubted the proud burghers and peasants of Severyana would appreciate that one bit.
---
Meanwhile, in Europe.
The Brits wept at the loss of their source of tea.
The Russians purchased a noose upon realising there was nothing past the Ural mountains.
The French erupted in civil disobedience, protests, riots; political and regular violence epidemic, Paris was in ru- oh wait, sorry, France was completely normal.
The Germans drowned themselves in beer. To their wives, 'it was because they had turned into mythical lion-eagle hybrids'. But really, they always finding excuses to get plastered.
The Austro-Hungarians continued to be a tongue-twister, and the powderkeg they sat on turned into a RBMK reactor with Dyatlov in charge.
The Italians surrendered to their mirrors when they awoke.
The Swiss became dragons.
The Spanish pretended that they had lost alot.
The Nords ate glue & paste.
The Balkans became Balkan-ier.
And the Portuguese... Uh, they existed.
---
Written on a phone.
I don't check my work. (It drains my motivation)
About my writing style: Why yes, I enjoy the mass assault doctrine. How could you tell???
I'm creatively bankrupt and have been playing an unhealthy amount of Victoria III and Equestria at War, and after my 9th playthrough of genocidal Suntail and Funni black flag Russia, I had the brilliant idea of writing a fic with the premise of Victorian Europe tryna scramble up the continents of Equus, Griffonia and Zebrica during their kinda-Renaissance.
It is very niche, but this story is mostly for me. I had to make a part of my brain shut up and unfortunately, my lobotomist got arrested, so I gotta do this now.
Yay, I got featured.
Chapters (13)