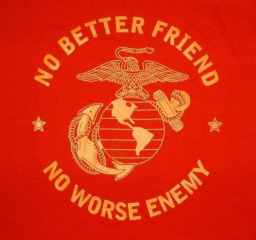 Source
(STORY IS UNDERGOING REEDITING)
"Demonstrate to the world, there is 'No Better Friend, No Worse Enemy' than a U.S. Marine."
~Gen. James Mattis
---
Excited for his first deployment, young marine LCpl. Kevin Brooke and his fellow squad mates of Bravo Company 2nd Battalion 1st Marines, begin their journey through the Pacific Ocean with the U.S. Navy carrier fleet. On their second day of voyage, they encounter a large floating crystal, ending in a swift and devastating battle.
After awakening in an unknown world, four ships ('USS' Anchorage, Princeton, Spruance & Michael Murphy) must adapt to a land filled with talking ponies while finding their way back home. However, during their stay, Queen Chrysalis rebuilds her army to take on her new enemies, and Brooke slowly unfolds the depths of a forgotten past.
---
NOTICE:
*Edited/Proofread by Dumbgamer999, totallynotabrony, & Groggari
*Rated for graphic violence, language, and gore
*Additional Tags: Random (occurs a few times in the story), Comedy, Dark, Thriller
*All characters (humans) in this story are fictional and are not affiliated with the U.S. military and other international militaries
*This story takes place several months after S03E02
*My Little Pony: Friendship is Magic is owned by Hasbro Studios & Lauren Faust
Featured:
-November 24, 2014 -- Wow... I have no words what to say about this. Thanks so much for this achievement.
Chapters (22)