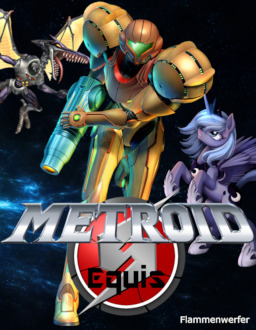 A Metroid Crossover
A meteor, resistant to magical manipulation, crashes in Equestria, Planet Equis, and soon spreads an unknown poison throughout the land. Containment is all but failing and the Princesses have little power to stop the spread of the Great Poison. The Elements of Harmony are of little use as no knowledge exists of this threat that consumes all life. Help comes from a certain Hunter, clad in metal.
Samus Aran will not only fight for her life as always, but her own sanity as well as these ponies that she begrudgingly starts seeing as allies. New horrors and abilities await her as a reason to fight slowly festers within her, possibly unlocking something she had been denied for so long: Friendship.
Notes and Resources:
This takes place after Echoes. The events of Corruption will have not happened yet. In terms of MLP, consider everything up to and including the Crystal Empire. Princess Twilight does not exist here, etc. The official Metroid Timeline can be found here.
As well, this story references the manga in many places. Reading of it is not required and I try my best to explain the context, but if you're interested, both volumes can be found here.
EDIT: This story was written over two and a half years, beginning in 2013. You'll probably notice the difference in writing as the chapters progress.
Chapters (59)