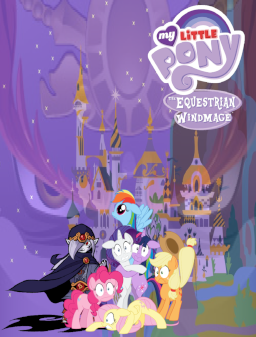 Now with TVTropes page! Show it some love: TVTropes
At last, the second season of your favorite wind mage's adventures in Equestria is here!
Just as Vaati has fully settled down into his new life in Equestria, the unthinkable happens; Ganon appears and declares his intent to conquer. Now, with the Princesses forced into hiding, the Elements of Harmony scattered all across the land, and races all around Equestria suffering under Ganon's harsh rule, it is now up to Vaati, Twilight, and their friends to join forces with unexpected allies, recover the Elements, and take the fight to Ganon. And all the while, an even greater evil plots from the shadows, enacting a scheme centuries in the making that shall soon encompass two worlds that do not yet know the connection they share...
And as the adventure gets underway, one by one, the Mane Six begin to have nightmares...
Meanwhile, the Cutie Mark Crusaders must combat the darkest depths of madness and twisted illusions if they want to save Scootaloo from falling victim to the evil power that weaves the strings of all their fates...
Rated T for action violence, minor language, mildly suggestive themes, and some scary/disturbing images.
Chapters (19)