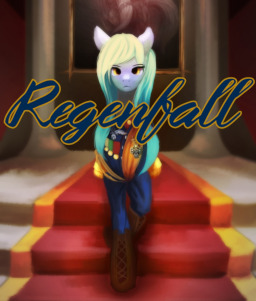 Source
She is youngest monarch to ever ascend the throne on the continent... in the youngest nation on the continent. She has been groomed to etch her name in history and with all the tools at her disposal to realize her noble goals: A roaring economy, an eager population, and a nascent, rising empire. She would lead Alemaneia into an era of prosperity and prestige.
Her proponents (who feel she would bring young, modern blood to the nobility) and her skeptics (who feel she is far too young and cannot possibly have the ability to stand up to their regional rivals) both look upon her career with immense interest.
Perhaps everypony, in some way, would be right about her. And perhaps everypony, in some way, would be wrong about her.
So very, very wrong.
---
---
A six-part story of an unprecedented rise, and a spiraling, tragic fall of Regenfall IV.
Set in the Flower Mare Universe. Reading is NOT required, but I certainly won't stop you if you want to read the series.
Royal Painting by G_Hyze, linked to his DA proper.
Chapters (3)