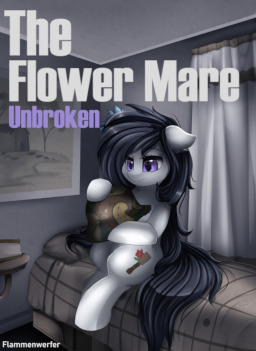 Source
This story is a sequel to The Flower Mare: Seele
---
Schneeblume Herbstlicht—Ponyville's newer Flower Mare—was a withdrawn, grizzled earth pony veteran of the The Great War. It took the determination and attentiveness of the three Crusaders over several years to help Schnee slowly find peace in her tumultuous mind, and life. But it turns out, in a manner of speaking, there is one more battle that must be concluded.
And to lay to rest some more of her demons that have haunted her healing mind, Schnee realizes she must once-more return to where her journey through Tartarus began: back home.
---
Two-chapter, third and final installment of 'The Flower Mare' series.
Unlike my previous stories that had sequels, this is one that I highly recommend reading the previous two prequels for better world filling.
Cover art by the wonderfully talented pridark, sourced to her DA.
Chapters (3)