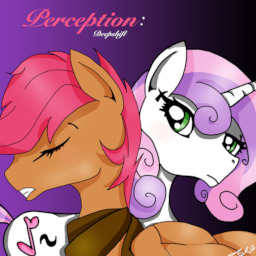 "Life is a matter of perception."
Scootaloo is alone. She's failed her family, her friends, her destiny - everything. Running away from her problems, Scootaloo lost herself in the sprawling city of Las Pegasus. Now, her life is grey and colourless, devoid of friends or purpose... until a letter arrives from Ponyville that finally draws her back home.
A story about perseverance, purpose and love.
~~~
Description liable to change.
An entry to the Scootabelle Writing Contest 1.
Thanks to everyone who has helped me on this project! I've been tossing around ideas for this since the contest opened, and am happy to have finally begun proper work on it.
Thanks to LoveBronyOtakuChan87 for the awesome cover art!
Thanks to Cerulean Voice for his incredible work as an editor!
Thanks to FlutterPal for his own work as an editor and art!
Thanks to Pegasister Teagan for the Letter!
Thanks to The Incognito Brony for help with the description!
Thanks to Scramblers and Shadows for his awesome work as an editor!
Thanks to The Celtic Pony for his work as a pre-reader!
Thanks to my sisters (who unfortunately don't have anywhere I can link to) for their own help editing and supplying ideas.
And most of all, thanks to all of you! Thank you so much for taking the time to read my story about lesbian ponies, I love each and every one of you!

Well then, I think that's about all for now, bye!
Inspired by A Bluebird's Song. A beautiful story by Ardensfax.
Chapters (12)