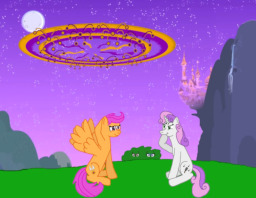 The troublesome trio finally have their cutie marks after five years of searching. Five years have past since then and only one of them has found success in her career. Scootaloo, self made stuntmare, and Sweetie Belle, aspiring singer, have yet to make much headway in their careers. Will the love for each other be the inspiration they need to achieve their dreams?
For more of this universe, read The Apple Ran Away With The Spoon.
My first fic and my entry in the Scootabelle Writing Contest 1
I wanna thank Wolfie 03 for pre-reading this for me; it would have turned out worse than it is now. I also want to thank her for the cover art. Let's add drawing to the list of things I can't do.
If you don't like my story please tell me why in the comments below. For those that do like it please upvote and favorite so that I might have more confidence to continue writing.
Rated teen just as precaution. Sex tag also added to be safe.
Chapters (5)