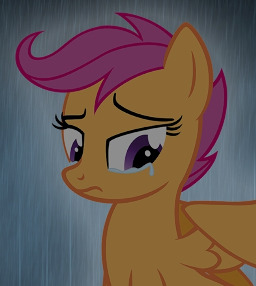 Source
It's hard when you're alone. It's harder when you're alone and constantly picked on. Scootaloo's lost all faith in ponykind. A dark and troubled past drives her to the most extreme of measures.
The first fanfic I've felt confident enough to submit. I would appreciate if you could point out any spelling or grammatical mistakes. There may be a few (I often write late at night), but hopefully not many. If you do plan to leave criticism, the constructive kind is appreciated. If you don't like this kind of story, don't comment. It doesn't help anyone and just gets annoying. Alternatively, if you must leave a comment, leave it in a civil and constructive manor.
Immerse yourself in the story and travel through my twisted mind. Scootaloo's feeling down and you get to follow her as she plummets down the pit of despair.
Chapters marked with a ~ are flashback chapters. These are not essential to the story, but are there to clarify certain things that people are bugging me about. You can just read all of the non-marked chapters and still get the full story in the modern setting, but if something's not quite clear to you then reading the flashback chapters will hopefully clear that up. (If not, let me know in a nice way. Don't be rude!)
Warning: Comments section may contain spoilers!
Chapters (10)