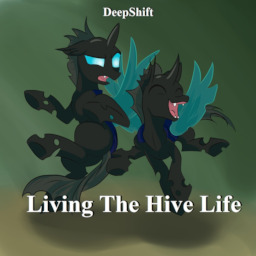 Ever feel like you should be doing something? Like there's something missing from your life? Then you know how it feels to be Mimic Shift. Mimic is a Changeling living within Hive Mephistis, home of the great Queen Chrysalis. Stuck in a job which will only lead to his death, life doesn't seem to have much of a point, but Mimic's not worried, he's got friends who will help him make the most of his life, and with friends like these, what could possibly go wrong?
Welcome to Living The Hive Life, where we follow the tales of all manner of Changeling life, so sit back, grab some popcorn and relax as we regale you with our tales of adventure, romance and most of all, stupidity.
~~~~~~
Wow, this thing has been in the works for awhile. I should be updating this weekly-ish but don't hold me to it!
Special thanks to Cerulean Voice for all his help with editing!
Thank you to my amazing editor and friend FluxerCry for listening to all my stupid ideas and throwing in his own!
To Necrath thanks for letting me use your art as the cover, and for inspiring this story with said art!
And last off, thank you! All of you for reading this, I really appreciate it. Please, leave a comment on what you thought about the story! I appreciate any and all criticism. See you all later!
~DeepShift
Rated Teen for occasional swearing
Chapters (3)