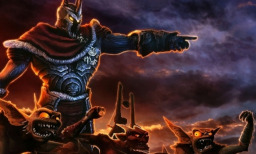 Many of these so-called ponies believe they were the first to discover the land that is now known as Equestria. They were wrong, of course. Those idiotic Humans, inebriated Dwarves, and the pitiful vomit-inducing, tree hugging, frolicking Elves littered the landscape first all the while living their simple, boring lives. The ponies and the other smattering of races moved here over time from some other land. If they were still here, the various original races meeting the ponies would have made for a bit of a chaotic first contact considering they used dumber cousins of the ponies as labor and mounts. It's too bad that didn't happen, oh I could have enjoyed watching that carnage with a nice bowl of salamander eyeballs.
But, well, one or one-hundred powerful wizards attempting magic beyond their capabilities on magical artifacts beyond their comprehension tend to make things go... explodey. In a single snap of my claws the entire human race, and all of the other "intelligent" races as well, were simply gone. Vaporized in a magical wave of energy. The landscape left even more magically scarred than when the Tower Heart of the old Dark Tower went kaboom. We minions fled back to the Netherworld from whence we came and waited for the land to heal, and hopefully for some other race capable of thought to come knocking at its gates.
We waited a long time for that and now we should really get around to finding a new Master, none of the races showed any real promise so we need to do this ourselves. Giblet seems to have found something promising while digging around the cave of a local dragon (the dragons seem to have gotten smarter too), so I'll have to go give that a look-see and pray to Darkness nothing weird comes out of it.
But as I always say... Evil always finds a way.
-Gnarl, the Minion Master, on the origins of Equestria
Chapters (6)