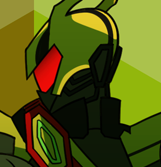 Source
"My name is Kelly Randell. I have been a fan of Kamen Rider since Double, and I sort of have a thing for hot villains... Ryoma being my favorite of the bunch. So it comes as no surprise that I come dressed up as him to Comicon."
'So... if the title and art says that she's becoming Gold Drive, why then does the description imply that she becomes Duke?'
"So then I met this guy who was selling a bunch of trinkets. He offered me the limited edition Lemon Lockseed that hadn't even been released yet... but then I saw the badass Banno Driver. I bought that instead. I think I made a good purchase...
That's what I would have thought had I not then experienced a Slowdown and ended up in a world where everyone's skin is colored differently, I ended up as a professor in a high school, and the Driver had become active. Yes. Banno's active. I'd be afraid, but right now I have other problems, like the local bully or Roidmudes randomly popping up everywhere. And don't get me started on that edgy Little Red Riding Hood cosplayer.
Basic gist: High School sucks. As always."
An Equestria Girls Displaced fanfic crossing over with Kamen Rider (Specifically Kamen Rider Drive) and RWBY. Image by Egophalic. Character tags may change depending on how important they are. The story is split into several six-chapter arcs. Each will be revealed in time.
Arc 1 (Chapters 1-6): The Golden Drive Arc, the beginning arc for this fanfic in which Kelly adjusts to both the new world and her powers as Gold Drive, and how she's not the only Displaced in this world.
Arc 2 (Chapters 8-14): The Shimmering Sunset Arc, in which Kelly learns about being a Displaced, her place in the universe she had been thrown into, and how there's a threat that could be bigger than she could ever imagine.
Arc 3 (Chapters 15-??): The Dazzling Adagio Arc, in which Kelly ends up having to face both the Roidmudes and the Dark Swan at the same time, and how she ends up receiving help from the most unlikely of allies.
Chapters (20)