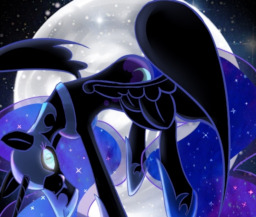 Source
This is just great. I wanted to have just a normal time being at my first convention to meet new friends, but also enjoy the Star Wars and My Little Pony fandoms that were at the Crossover convention.
The only thing I didn't have was just a light saber. I ended up meeting the merchant from the Resident evil universe. He had a lightsaber for me to use. By the time I was given the lightsaber, I was no longer in my world. I was now on the moon waiting to return to Equestria to start my dark deeds against Celestia's rule.
What else is going to happen to me at this rate?
Artwork used is from Deviant Art by the artist Roselinth. Image can be found by pressing the picture and click source.
Star Wars belongs to Lucas Films and Walt Disney.
MLP belongs to Hasbro
Chapters (2)