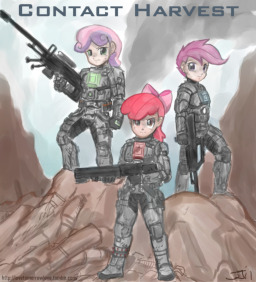 A solar storm is raging across Equestria, the weather is going wild and magic is going haywire everywhere...
...and three fillies are sneaking through the most recent addition to ponyville, Twilight's crystal castle, looking for cool artifacts.
Unluckily for them, they find what they're looking for.
---
This is my third story, and second halo crossover, on here and I'm going to attempt writing it in first person, criticism is appreciated since first person is hard.
The cover art is made by Johnjoseco, I colored it in.
Source: derpibooru
Hope you guys enjoy!

Chapters (27)