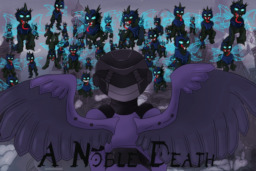 Source
Spartan-B312 A.K.A Noble six. The unsung hero and the only other Soldier designated as 'Hyper-lethal' of the Human-Covenant War. Were it not for her actions on Reach, the events that lead to victory over the Covenant and Flood would never have happened.
But that victory had a cost heavy price with Noble team dead and Six left on Reach as the Pillar of Autumn made for orbit.
Alone against the Covenant she was doomed. But she wasn't going to go down without a fight.
For three whole days, she fought. For three whole nights, she struggled against the full might of the Covenant on Reach. And on the third and final day, she fell.
Exhausted, battered, and beaten she was finally overwhelmed and presumably killed from what the helmet cam footage shows, the only thing remaining of the Spartan after the glassing of Reach was a broken helmet. But even after that, there is one constant that is never broken.
Spartans never die...They just go missing in action.
Now armed with a new equine body and armor to boot in a barren wasteland resembling the one she had just left behind, Six's Journey hasn't ended yet.
---
Cover art by the wonderful: Panini you can find them here
Holy wow Featured within the first 6 hours
I-I have no words to express how happy this makes me
Halo: Reach Crossover (And yes my Noble Six is female)
Character tags shall be added as the story progresses
Chapters (50)