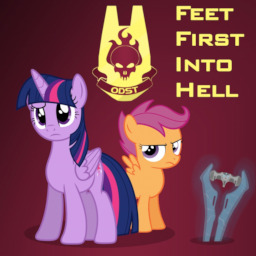 When Scootaloo crashes into twilight during a magic experiment they get teleported to an unknown city that's burning and has weird creatures scattered in the streets. As the two separated stranded ponies roam around the city separately trying to figure out where they ended up, will they try to make it home as fast as possible or will they stay to help a species that's being systematically eradicated?
I'll try to upload chapters whenever I finish them.

Cover art by myself
23-12-18: I got featured!


2 - 1 - 19: Again

Edit: This entire thing is going to be edited and partially re-written somewhere in the future.
Chapters (28)