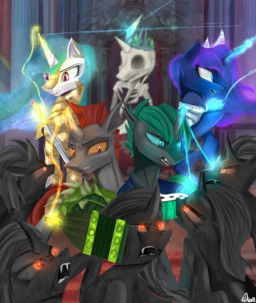 Source
This story is a sequel to Changing Expectations
---
When ages are segmented and divided in the annals of history, it is done so with great events as breakpoints. The Second Age of Heroes was unanimously declared to have started with the return of Princess Luna and the changeling Invasion of Canterlot.
For thousands of years, the changelings survived beneath The Great Tapestry, that which connects all living and nonliving things. Hundreds of generations worked endlessly to keep their existence a secret. With one command from Queen Chrysalis, the Masquerade was broken.
In a single night, the changelings waged war against Equestria and took the Kingdom by storm. Months later, the war between changelings and ponies has ended. A new tapestry, a new story, must be woven between the two species. Equestria and the Fifth Hive have gone through a dark chapter and have emerged stronger for it.
One war ends and another begins.
As The Sword of Damocles hangs above the heads of the formerly-human King Phasma and his Equestrian counterparts, the forces of light must work on an ever-shortening window before war once again brings Hell to Equus. Dark powers grow in the places that the light does not reach, and they bring one irrefutable truth.
Epitaph is coming.
---
Cover art by Nixworld.
Special thanks to my pre-readers!
Chapters (22)