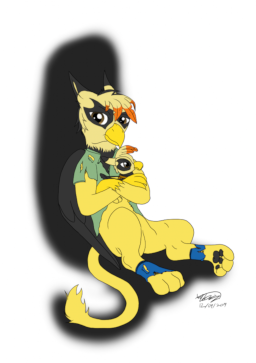 A few weeks have passed after Nightmare Moon's defeat and Princess Luna's freedom and she has returned to Equestria to rule once more by her sister Celestia's side. However, a mysterious young griffon is discovered, and the questions about this young unknown griffon grow as Celestia and many others try to find out how and where he came from.
No solid answers come and communicating with the young griffon is going to be more of a challenge then they could believe.
(The one rule is revealed in Chapter Six. If you wish to be spoiled, reveal the spoiler, but if not, read to Chapter Six. Also, if there is a better way of wording this, please let me know.)
The one rule is: Letting someone hold the Griffon's (Young one's) plush and returning it to him is for him to have absolute trust in someone without the need for words.
Chapter 1: Proofread by Truthseeker
Chapter 2 to 4: Proofread by Katarina Mau
Chapter 5.5: Checked over by Mr_Mopey
Chapter 65.5, 75.5: proofread by Akira Dragonborne
Featured: 109 times
Chapters (126)