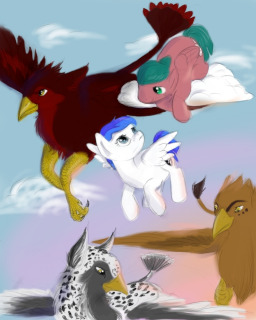 Source
Hegira (n.) - "A flight, or journey, to a more desirable place."
Life is a series of choices. When two worlds collide, choice becomes more difficult, and nuanced. A dying planet has a peculiar way of reshuffling people's priorities.
For a long time, humanity has only had three options: Ignore the inevitable, risk the unthinkable, or become the unimaginable.
All that is about to change.
Everyone knows the Ponies of Equestria fairly well... But here, there be Gryphons.
Book One of the Hegira Trilogy - This story only takes MLP G4 Seasons 1 - 3 as cannon, and ignores 4 and onwards.
Chapters (48)